Police have charged several people - including senior Rebels bikie members - after raids across the Perth metropolitan area last week.
Methylamphetamine, cocaine, cannabis, firearms and cash was seized in the raids on Thursday, which were carried out in Scarborough, Alkimos, Edgewater, Wangara and Butler.
Gang Crime Squad detectives and the Tactical Response Group carried out the raids.
Police will allege at one address they seized more than 390 grams of methylamphetamine, two
firearms and $3385 cash.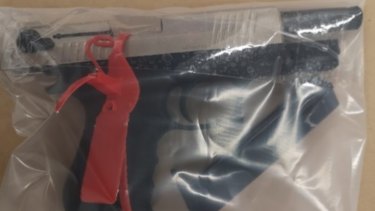 One of the seized guns.Credit:WA Police
The seized drugs.Credit:WA Police

It will be alleged more than 160g of cocaine, more methylamphetamine, cannabis and more than $85,000 cash was found at the other properties.
Five people, including senior members of the Rebels, have been charged with serious drug and other offences.
The four men and one woman faced court last week.
Detective Inspector Mark Twamley said the seizures further highlighted the role outlaw motorcycle gangs have in the supply and distribution of illicit drugs in WA.
"WA Police Force is committed to disrupting the criminal networks that operate under the
guise of motorcycle clubs and we will continue to focus our efforts on those who bring
harmful drugs into our community," he said.
"As much as they try to conceal their illegal operations, it is seizures such as this that
reinforce the importance of maintaining a strong enforcement approach to outlaw motorcycle
gangs and the local, interstate and overseas criminal networks they engage with.
"This operation has seen senior members of the Rebels OMCG arrested and this will have an
immediate impact on their ongoing activities."


Australia - BNN.