Armed officers dressed in body armour are about to hit the streets as police step up their response to increased gang rivalry and violent crime in Tauranga.
Police Minister Stuart Nash said the escalated response was a temporary measure aimed at tackling the latest flare-up between gangs. It also comes the day after two men where shot dead at a property in Omanawa.
"Expect to see police openly carrying their Bushmaster rifles and Glock pistols. Expect to see police wearing their new body armour," he said in a statement.
"Expect to see the Eagle helicopter in the air. Expect to see police executing search warrants at gang properties and stopping vehicles carrying gang members and associates."
A homicide inquiry was launched after the men were found at a home on Ormsby Lane, in Omanawa near Tauranga, on Tuesday evening.
Witnesses described running for their lives as gunshots ripped through the home just after 7.30pm.
Among those fleeing was a child.
Armed police swarmed to the residence, where they stood guard overnight. Police are still searching for the person or people responsible.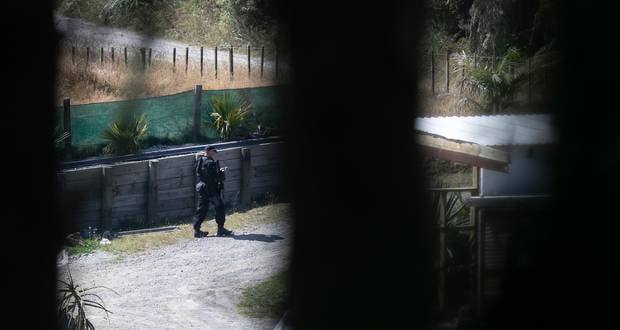 The deaths are the latest in an uptick of crime in the Bay of Plenty, following the arrival of the notorious Mongols Motorcycle Club in the area.
Their arrival stoked simmering tensions with established Tauranga gangs like the Greazy Dogs and the Mongrel Mob, with police warning the newcomers - hardened from inter-gang warfare with firearms - would radically change the criminal landscape.
Tuesday's homicide was the latest in a series of brazen shootings involving semi-automatic firearms, with a suspected arson along a row of the Bay of Plenty shops last month.
Nash said the Government was pouring more resources into policing the Bay of Plenty, targeting gangs and organised crime.
"Just yesterday police announced 10 arrests in a transnational drug syndicate responsible for importing vast quantities of methamphetamine and other illicit drugs.
An extra 91 full-time police officers are now working across the Bay of Plenty district, a booster after an ongoing drop in number in the last five years of the previous government, Nash said.
"What's happening there is happening all around the country. Since March last year police have seized more than 2,000 illegal firearms from gangs and other criminals."
Nash wants tougher penalties for gun crime and has challenged National leader Simon Bridges to support new gun laws at a parliamentary vote next week.
New Zealand - BNN.