More than $18 million worth of cultivated cannabis has been seized across NSW this month, after police uncovered a $1.65 million crop in the state's central west, the third such discovery in two weeks.
Three men were arrested, including the president of the Sydney chapter of the Bandidos outlaw motorcycle gang, when detectives from Strike Force Hyperion stormed a remote 115-hectare property near Mudgee on Monday.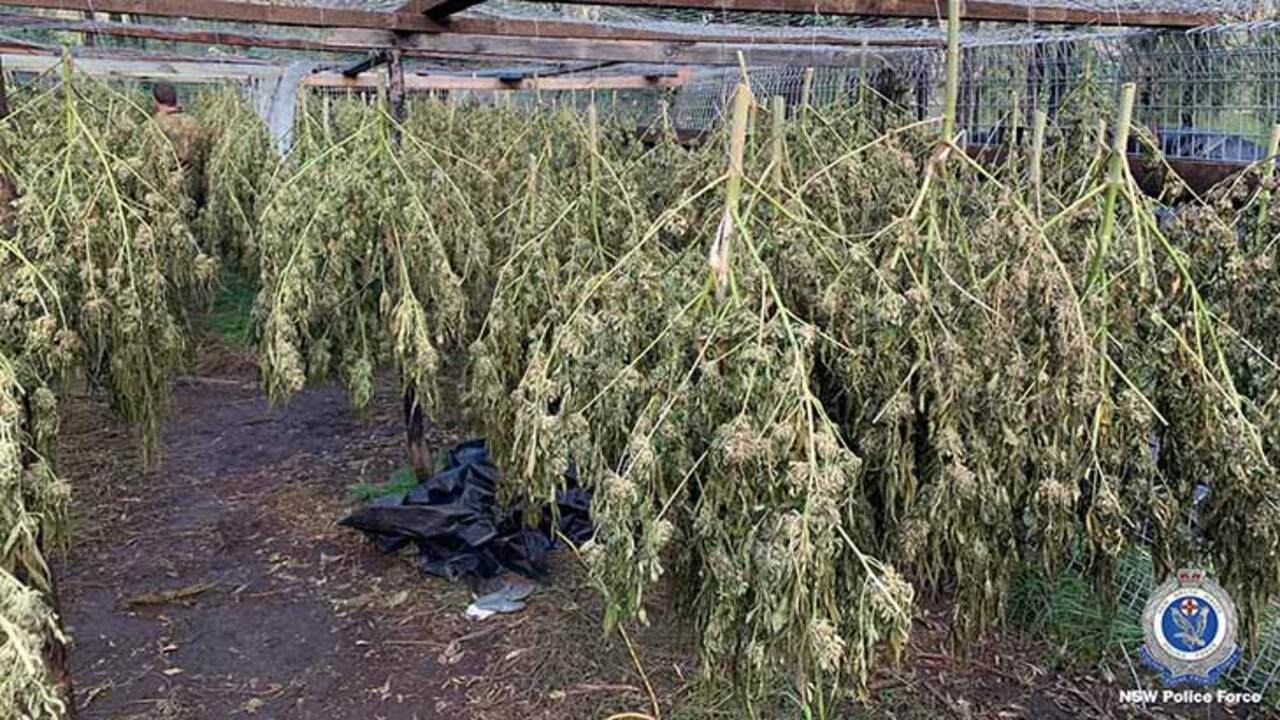 NSW Police have charged three men, including a senior member of the Bandidos outlaw motorcycle gang, seized a shotgun and more than $1.65 million worth of cannabis, as part of an ongoing investigation into cannabis cultivation in the state's C...


Alleged Bandidos president Bradley John Duff, 45, Jason Noel Keep, 47, and and Justin Herlihy, 21, were arrested at the property on Cainbil Road, Coolah, near Mudgee around 11am.
All three were taken to Dubbo police station and charged with cultivating a commercial quantity of cannabis, supplying a commercial quantity of a prohibited drug and participating in a criminal group.
Strike force detectives were acting on a tip when they raided the Coolah property on Monday, allegedly discovering the trio as well as 250 kilograms of dried cannabis plants, at various stages of the harvest process.
Three men were arrested and charged, including a senior member of the Bandidos outlaw motorcycle gang.Credit:NSW Police
Police video footage showed recently cut cannabis plants hanging upside down from wood palings. Wires strung between trees were also allegedly used to hang and dry cannabis plants. Other images depicted dried buds of cannabis plants that were allegedly found laid out on large plastic bread crates inside a shed.
Officers also seized a double-barrelled shotgun, ammunition and equipment consistent with the cultivation of cannabis.
Police will allege in court that the men were involved in the large-scale cultivation and supply of cannabis across NSW.
Dried cannabis buds were also located inside a shed at the Coolah property.Credit:NSW Police.
All three appeared via video conference at Dubbo Local Court on Tuesday.
Mr Duff and Mr Herlihy will both remain in custody until their next scheduled appearance at the same court on June 3.
Mr Keep was granted strict conditional bail, secured by a security deposit over a property in north-west Sydney.
He is required to report to police three times a week and is next scheduled to appear at Mudgee Local Court on June 3.
Further arrests are expected.
It is the third major cannabis bust by Strike Force Hyperion this month. Police from the State Crime Command's Drugs and Firearms Squad formed Strike Force Hyperion to investigate cannabis cultivation in NSW. Eight people have been charged across the state and more than $18 million worth of cannabis seized. Two weeks ago strike force detectives raided a 8000-hectare property near Cobar, seizing more than $6 million worth of cannabis, while last week 3490 cannabis plants worth almost $10.5 million were seized during a raid at a four-hectare property in Austral.

Commander of the Drugs and Firearms Squad Detective Superintendent John Watson said Monday's seizure was significant because it highlighted the link between large scale cannabis cultivation and organised crime in NSW.

He said investigations by Strike Force Hyperion had exposed a range of methods used by organised crime including outdoor crops in isolated sites, large commercial-style growhouses and hydroponic houses.
"They all amount to the one thing and that is they produce profits. Those profits get diverted into other illicit activities, including drug manufacture, ice [and] money laundering. So these particular seizures are significant."


Australia - BNN.